Political Map of East Asia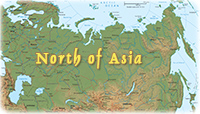 Copyright © Geographic Guide - Asia Atlas, Maps of Countries.
Countries in the region: China, North Korea, South Korea, Russia and Japan.
East China and Surroundings
Heian Jingu, a shrine in Kyoto, Japan.
Source (edited): Atlas of Canada's Reference Map Series - Natural Resources Canada.